HKSSF Inter-school Swimming Competition (Div. 2) 2021-2022
2022-06-29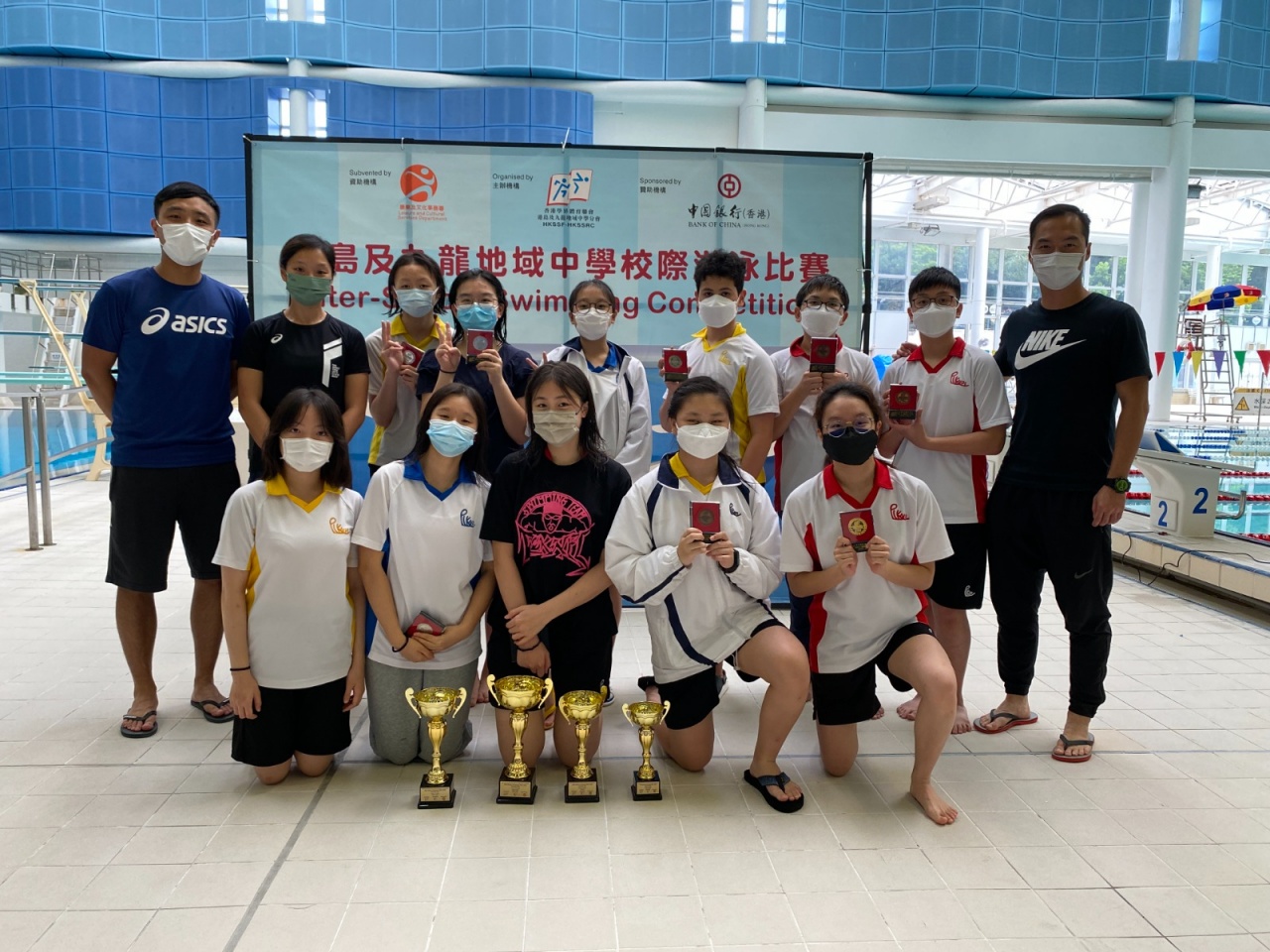 HKSSF Inter-school Swimming Competition (Div. 2) 2021-2022
Our school swimming team achieved encouraging results in the HKSSF Inter-school Swimming Competition (Div. 2) 2021-2022 on 29 June 2022 at Victoria Park Swimming Pool. The achievement summary of group awards is shown below:
Group Award
Boys C Grade 3rd Runner-up
Girls B Grade 2nd Runner-up
Girls A Grade 1st Runner-up
Girls Overall 1st Runner-up
Congratulations to our swimming team members!
The name list of swimming team members with individual/relay award(s) is shown below:
Class

Class No.

Name

Individual Award

1A

3

Chan Tsun Chit

3rd Runner-up in Boys C Grade 4x50m Medley Relay

1A

17

Lai Tsz Kiu Charmie

1st Runner-up in Girls A Grade 4x50m Freestyle Relay

1A

21

Liu Ching Hei

1st Runner-up in Girls A Grade 4x50m Freestyle Relay

1C

22

Ruan Tsz Sho

2nd Runner-up in Girls B Grade 200m Individual Medley

3rd Runner-up in Girls B Grade 50m Backstroke

3rd Runner-up in Girls B Grade 4x50m Medley Relay

1C

24

Tam Hoi Fu

2nd Runner-up in Boys C Grade 200m Freestyle

3rd Runner-up in Boys C Grade 100m Backstroke

3rd Runner-up in Boys C Grade 4x50m Medley Relay

1D

2

Chan Ching Ki

3rd Runner-up in Girls B Grade 4x50m Medley Relay

1D

15

Lok Suet Ching

2nd Runner-up in Girls C Grade 4x50m Medley Relay

1E

6

Chieng Tsz Yau

2nd Runner-up in Girls C Grade 4x50m Medley Relay

2A

26

Wong Hei Man Jade

2nd Runner-up in Girls C Grade 50m Butterfly

2nd Runner-up in Girls C Grade 4x50m Medley Relay

2B

12

Fok Hoi Ching

1st Runner-up in Girls C Grade 50m Backstroke

1st Runner-up in Girls C Grade 100m Breaststroke

2nd Runner-up in Girls C Grade 4x50m Medley Relay

2C

3

Arie Idan Benzion

2nd Runner-up in Boys C Grade 50m Butterfly

3rd Runner-up in Boys C Grade 50m Freestyle

3rd Runner-up in Boys C Grade 4x50m Medley Relay

2C

29

Yu Chung Kei

2nd Runner-up in Boys C Grade 200m Breaststroke

3rd Runner-up in Boys C Grade 4x50m Medley Relay

4A

6

Cheng Chun Ho

3rd Runner-up in Boys B Grade 100m Breaststroke

4B

6

Deng Nancy

3rd Runner-up in Girls B Grade 4x50m Medley Relay

4E

2

Au Hoi Yiu Charlotte

Champion in Girls B Grade 100m Freestyle

1st Runner-up in Girls B Grade 50m Butterfly

3rd Runner-up in Girls B Grade 4x50m Medley Relay

5A

6

Hung Kui Yuen

1st Runner-up in Boys A Grade 50m Backstroke

1st Runner-up in Boys A Grade 100m Backstroke

5A

10

Kwok Wai Lam

1st Runner-up in Girls A Grade 100m Breaststroke

2nd Runner-up in Girls A Grade 50m Breaststroke

1st Runner-up in Girls A Grade 4x50m Freestyle Relay

5E

11

Ng Kwan Kiu

Champion in Boys A Grade 50m Breaststroke

5IB

3

Chen Jiawei

3rd Runner-up in Girls A Grade 50m Backstroke

1st Runner-up in Girls A Grade 4x50m Freestyle Relay